Pastor Tunde Bakare of The Citadel Global Community Church on Thursday purchased the All Progressives Congress (APC's) expression of interest and nomination forms in Abuja.  The forms are sold at a total price of N100 million.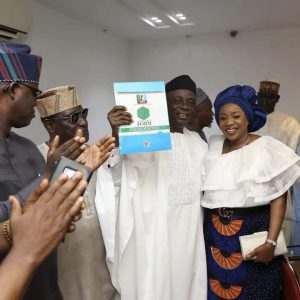 In September 2019, Bakare said God told him he will succeed President Muhammadu Buhari In 2023.
A video trended on the social media at the time that showed him saying he is the "number 16th president" of Nigeria.
Bakare is a Nigerian Prophetic-Apostolic pastor. He was reportedly arrested in March 2002 after preaching sermons critical of then-president Olusegun Obasanjo. He was the running mate of the presidential candidate, Buhari, in the 2011 Nigerian presidential election.
He was formerly a pastor at the Deeper Life Bible Church before he left to join the Redeemed Christian Church of God which he soon left to form his own.
Bakare was described by The Guardian as being one of the most politically influential pastors in Nigeria.